Announcing the Return of The Math Club
We are excited to announce the in person reboot of The Math Club in Fall 2023!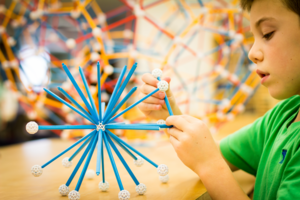 Inspired by Joe Quigley's approach to teaching the joy of mathematical problem solving, we are launching in person classes for the Fall 2023 to Spring 2024 school year. Keeping Joe's proven format, classes will meet for one and a half hours, combining self-paced exercises, instruction, and interactive learning opportunities. Students will have the opportunity to take the elementary and middle school Math Olympiad competitions.
Much thanks to Linda Rossetti, director of The Math Club Lexington, for passing The Math Club torch to us and for assisting us in restarting the program.
"Work hard. Work smart. Check your answers!" — Joe Quigley.
How This is Different from Other Extracurricular Math Options
The Math Club is aimed at kids in grades 4-8 because it's meant to prepare kids for the Elementary and Middle School Math Olympiad contests which are designed for kids in grades 4-8. However, we've had inquiries from several parents of younger kids. Please email mathclub@einsteinsworkshop.com if you would be interested in a Math Circle for younger kids. If there's enough interest, we'd love to get something started.
Thursdays 4-5:30pm (Grades 4-6) 

Thursdays 7-8:30pm (Grades 6-8)
Note:  We have had requests for other days, especially Tuesdays 7-8:30pm; if there is enough demand, we may add another meeting day/time so please email us at mathclub@einsteinsworkshop.com if you would like to sign up but Thursdays don't work for you.
Math Club has two sessions:
Session 1:  September 28 – December 21, 2023

Session 2:  January 4 – March 28, 2024
There may also be a third session and/or summer camp options if there is interest.
Sessions 1 and 2 each cost $540 (with a $10 sibling discount)
Math Club classes follow the time-honored approach that Joe Quigley and The Math Club Lexington used for over twenty-five years. At the start of each class, students receive problem sets containing fifteen problems that span the full range of difficulty from the Elementary Math Olympiad (grades 4-6) and the Middle School Math Olympiad (grades 6-8).
First half hour:  Students explore the problem sets based on their proclivities–in teams, alone, or in consultation with our instructors or teaching assistants. 

Second half hour: Each student has the opportunity to present their solution to one of the problems. This gives students the opportunity to both teach and learn from each other and also to hone their ability to explain mathematical concepts. 

Final half hour: The instructor goes over a specific topic in more detail. Most of the topics relate directly to a specific category of Math Olympiad problems. A few topics, based on the whimsy of our instructors, will give students novel insights into mathematics or new problem/puzzle solving techniques.
There will be five contest days in which students will have the opportunity to take either or both of the 2023-2034 school year Elementary and Middle School Math Olympiad competitions. 
Each of the five weeks just prior to a contest will have a slightly different format in which students will spend the first half hour working on mock contests at both levels with problems taken from prior Math Olympiad contests. Students will spend the next half hour presenting solutions. The final half hour of those weeks will contain a topic presented by the instructor as usual. 
At the end of the year, we will have a potluck awards ceremony to celebrate all of the hard work of our budding mathematicians.
Instructor Dean Chung was a 1991 United States of America Mathematical Olympiad winner, an author of the Daily Epsilon of Mathematics calendar series, and has served as an instructor for Math Olympiad teams for three years. He has a PhD in mathematics from the University of Michigan and an AB in mathematics from Harvard College.
Instructor Aaron Ashish, math ninja, has been an instructor at Einstein's Workshop for ten years. He has a PhD in mathematics from Duke University and a BS in mathematics from MIT.
TAs are former students of The Math Club Lexington who bring their enthusiasm and prior experience with the Math Olympiad to our students.
Director Rebecca Rapoport, owner of Einstein's Workshop, a STEAM enrichment center, is the author of Math Lab for Kids, The Kitchen Pantry Scientist:  Math for Kids, and the Daily Epsilon of Mathematics calendar series. She has degrees in mathematics from Michigan State University and Harvard College.